How to claim compensation yourself for delayed or cancelled flight in EU? This article will tell you everything about:
What are your rights & what are the rules in European Union for delayed and cancelled flights
How to prepare a claim letter to the airline to get a refund based on EU EC 261/2004 regulation
How to claim additional expenses such as food, taxi and hotels, even in case of extraordinary circumstances due to weather
How to claim with low cost airlines such as Easyjet, Ryanair & Wizzair and charters for plane delay & itinerary change
What to write back when airlines decline your first claim – European Court of Justice rulings to cite for technical reasons, bird collisions, lighting strikes, employee strikes, third party damages & how to claim in case of connecting flights
Not sure if your flight qualifies for compensation? Check below!
Who can claim cancelled or delayed flight compensation
I have seen my fair share of delays and various mishaps, so in this article I am sharing my experience on claiming compensations. This article will mostly be interesting and valid for those flying on EU airlines (such as Lufthansa, Finnair, KLM) or flights from EU by non-EU carrier (for example such as Turkish Airlines flight from Riga to Istanbul). These examples won't by valid for non-EU carriers flying to EU, such as a flight by United from Miami to Frankfurt. However, many countries outside of EU also have their own regulations regarding passenger compensations and I also mention my experience in other countries. Some airlines such as Ukraine International Airlines, have self imposed the regulation even for flights they are legally not bound to pay it, so definitely submit a claim with them, if your flight was delayed! Passengers flying from the UK after Brexit are also entitled to compensation based on the British laws.
Even if you have never done a claim with an airline before, you can do it and get the money you deserve!
Flying often and are tired of chasing the airlines for compensation?
If you fly often and frequently run into problems and don't want to go through the hassle of fighting for the compensation yourself, use AirHelp Plus subscription, where for as low as 1.66 eur/month you will receive full support in case of delayed or cancelled flights, delayed or lost luggage or additional expenses due to any of the above! The best part is that you won't need to pay anything else to the third party for handling the claim on your behalf.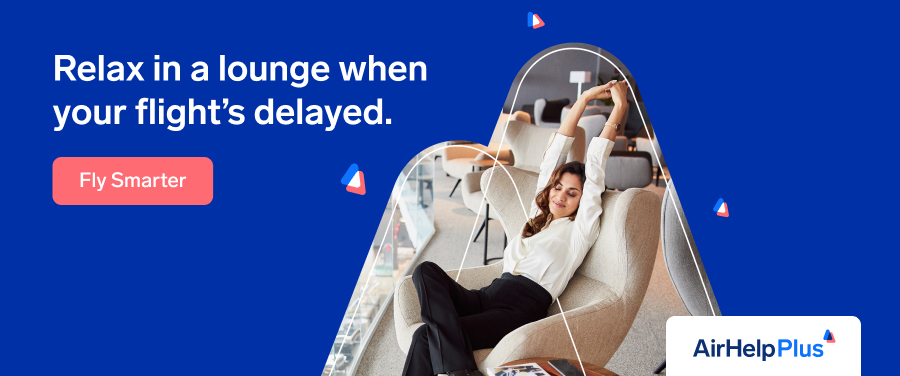 How easy it is to get compensation from an airline?
How long does it take to get compensation from an airline? My experience shows that with some airlines it is very easy, with others, it will take a long time and several letters. Below is the list with my experience, and it is subject to change, as when airlines are trying to save money, they will try refuse claims, as most people don't write the second time. Don't be that person who takes the first no! Write again, and this article will equip you with all the tools you need. If you see that you can't get the claim to go through, you can use third parties, such as AirHelp, who can process the claim for you! You don't need to pay upfront, they will take part of the win.
SAS, Lufthansa, Turkish Airlines, Ukraine International, Emirates, Finnair, Ryanair will pay out compensation relatively easier, unless it is a strike (harder but not impossible)
airBaltic – usually first answer is negative, but after the second letter will agree to pay
Wizzair – this one takes months and months, and I know many professional  flyers who refuse to claim themselves but go for a third party. Wizzair claims on their website that they don't work with third parties, but it is a lie, they do and they can't refuse to work with your legal representative.
Charters – usually these are the hardest one to get, unless you submit a claim to consumer protection agency
EC Regulation 261/2004 explained
First thing to keep in mind if you are a traveler, is the EC regulation 261/2004. There is a very nice short description of it on Wikipedia here, but in short it is a document that can help you claim as much as 600 eur in cash for international and domestic flights in the European Union. Some of the provisions of regulation can come in handy while travelling, so it worth to keep a copy on your phone. Although airlines are obliged to inform the passengers of their rights, in practice I have never seen this happen. Also, a good insurance will be useful too, especially the "unexpected changes" provision.
Brazil: ANAC 400 Resolution
Good news! Now you can also claim compensation for up to $1300 for delayed and cancelled flights originating in Brazil, as well as for denied boarding! Brazil is the latest country that has approved similar regulation as in EU, here, you are entitled to care and rebooking, as well as moral compensation for delays longer than 4 h! Use AirHelp, who can process the claim for you! You don't need to pay upfront, they will take part of the win.
Claiming money from Turkish Airlines or the SHY-passenger regulation
Turkey also has a similar law to the EU and you are entitled to claim compensation for your delays and cancelled flights. The only difference is that anything that was set as a precedent due to EU court ruling, won't apply to Turkey, so in some cases the compensation is limited. Check what you are entitled to here and here.
What to do on Location
If you arrive to the airport and find out that your flight has been cancelled or is significantly delayed and you might miss the connecting flights, you should take the following steps:
ask airport employees where you should go. Usually you have to find a designated information desk and start waiting in the line (and waiting can take even up to several hours). I have heard numerous stories of people waiting in the line for 8 and even 10 hours. Sometimes there is no such desk and you have to go to land-side area of the airport to the check-in counter, at times changes are done at the gate. Might happen that you will need to pick up your checked luggage on the way as well.
while you are walking or waiting in the line, check other available flights (and bus and train, if applicable) to your final destination or call a friend who is by the computer and can check for you. It's always useful to know what flights are available and not just with the airline that caused you all this trouble. You can ask to be put on the next flight out, irrespective of the carrier. But, before begging for a flight, it is useful to check if there are seats available. The most common issue with requesting a flight operated by another airline is that the airline at fault will try to keep you on their own service or at least within the same airline alliance, as this doesn't cost them additional money. Sometimes the flights offered might be only on the next day! But, if you are prepared, know your flights, you can ask for another flight and sometimes it will be granted. Last resort is asking for the attendants supervisor, if nothing else works.
when you have found the flights that would work for you but are still waiting in the line, it's time to call the airline. Don't just settle for the phone number of your own country, as it might not work or be busy all the time. For example, in case of strike with Lufthansa I have called many countries numbers and finally reached the Irish one, where the operator agreed to change my connecting flight from Barcelona to Riga, to a direct one with another airline. Airline employees can also change flights you have purchased through a third party, such as Expedia, if the departure time is very near. If you call the call center and are not satisfied with the answer, just hang up and try call center of another country or even same one, as a different person might pick up. If it's finally your turn at the desk in the airport and you still have time til your new flight, ask for the employee to provide you with a written confirmation of the delay or cancellation and the reasons. This sometimes is requested by insurance companies, but they also might accept a print-screen from Flightradar.
When You are Home: How do I claim compensation for delays or cancellations?
When you have arrived home, but preferably not later than 21 days after the flight (although all of Europe refers to 2 years time after incident, a recent Latvian court case requested complaint to be submitted within 21 days, so better safe than sorry), fill in the complaint. There might be a section on the airlines' website where to do it, fill in all the spaces and write down what is the amount you are entitled to (this article will explain the amounts shortly) and write down your account number. Double check if the email you have written there is correct. Usually you will receive a confirmation of receipt very shortly with a reference number, be sure to write it down!
Can you fill in the claim for someone else? Yes, you can! You can also use companies that specialize in getting compensations for you, such as AirHelp!
Here is an example of complaint letter to request compensation for delay or cancellation of a flight
Usually you can claim via complaint form on the airline's website. What to do if there is no formal complaint template on their website? You can simply send an email to the airline, here is a sample of a letter that I use:
Due to cancellation of my flight BT123 on 8th of December 2022 from Vilnius to Riga, please pay my compensation of 250 eur based on EC 261/2004 to my account:
name, surname, bank, SWIFT, account number.
Quite simple? The best letter is the shortest one. You really do not need to write how much inconvenience the delay caused you and how you will never use this airline again.
The answer time can take from few days to few months. Sometimes it helps to complain on the social media if the airline takes especially long to answer. By law, they are supposed to answer within 30 days.
Does travel insurance cover delays?
Although insurance won't give you the "free cash" compensation you could be entitled from the airline, a good coverage will come in handy if airline suddenly decides not to cover the additional transportation or food costs. Usually insurance also answers quicker and you can actually speak to a human when dealing with them. Of course, you would need appropriate policy covering unexpected changes in the trip, and it always makes sense to check if your credit card insurance policy covers delays and cancellations! Insurers often ask to inform them about incidents as soon as possible, so one option is to call them as soon as you discover an issue with your flight to find out what are you entitled to. Upon arrival home you can fill in a claim. You don't need to have travel insurance to claim compensation per EU regulation EC 261/2004.
Compensation
What are you entitled to in case of a delay or cancellation
First of all, the fact alone that the airline did finally deliver you safe and sound to your final destination doesn't mean their responsibility is over. Often you are entitled to monetary compensation or coverage of various expenses.
The system is the following, first, you must understand what type of flight do you have:
Type 1 – less than 1500 km. For example, Stockholm-Vilnius
Type 2 – a flight within EU for more than 1500 km or all other flights between 1500 and 3500 km. for example, Helsinki-Tel Aviv.
Type 3 – any flight outside of EU with a greater distance than 3500. For example, Hamburg-Dubai (connecting flights count too!)
To find out what is the distance, you can use this website.
You can get quite a lot of money if the flight is delayed, and I mean cash! Not travel vouchers, coupons or discounts!:
Type 1 flights 250 eur
Type 2 flights 400 eur
Type 3 flights 600 eur
Airlines will often offer vouchers for a larger sum, but do you have to accept vouchers? It's passengers right to choose voucher or cash. I always choose monetary cash compensation, as it doesn't expire and I can use it wherever I want. Airlines cannot force you to take a travel voucher, they must offer cash/transfer if passenger prefers that.
How long does a flight need to be delayed to get compensation?
The, you must look at how late did you reach your final destination. It doesn't matter that the airline might have only been an hour late, if this resulted in you missing your connecting flight, it's important how late did you reach your final destination! If you arrive 3 hours or later after the initial time, you are potentially entitled to a compensation. Three hour delay is considered to be equal to flight cancellation. You won't get any cash in case of no-fly weather conditions or due to terrorism. Keep in mind that the airline only needs to pay compensation or take care of delivering to your final destination only if you have all segments on one ticket. If you have purchased the tickets separately, there won't be any compensation.
Cancellations and Informing in advance about cancellation: The two week rule
In case of cancellations airline should inform you two weeks in advance. What if they didn't or informed you during this period? The airline is also required to pay cash compensation as described below, unless one of the following conditions applies:
the airline notifies the passengers at least two weeks prior to departure
the airline notifies the passengers between one and two weeks prior to departure, and re-routes passengers so that they can:
⦁ depart no more than two hours earlier than scheduled, and
⦁ arrive no more than four hours later than scheduled
the airline notifies the passengers less than one week prior to departure, and re-routes passengers so that they can:
⦁ depart no more than one hour earlier than scheduled, and
⦁ arrive no more than two hours later than scheduled
the cancellation was caused by extraordinary circumstances that could not have been avoided by any reasonable measure.
If the conditions have not been followed, you are entitled to some cash. But, if they warn you two weeks in advance, you have the right to choose one of the following:
re-routing to the same destination at the earliest opportunity (under comparable conditions);
later rerouting, at the passenger's convenience, to the same destination under comparable conditions (subject to seat availability);
a refund of the ticket as well as a return flight to the point of first departure, when relevant.
Any ticket refund is the price paid for the flight(s) not used, plus the cost of flights already flown in cases where the cancellation has made those flights of no purpose. Where applicable, passengers are also entitled to refreshments, communication and accommodation as described below. Where re-routing is to another airport serving the same destination, the airline must pay for onward transport to the original airport or to a close-by destination agreed with the passenger. These choices, and the entitlement to refreshments, etc., apply to all cancellations, regardless of whether the circumstances are extraordinary or not.
Food, hotels and other extras – the care provisions even in extraordinary circumstances
What are you entitled to in case of a delay, even if it is because of bad weather or strike?
Food – they are supposed to feed you if the delay is longer than 2 h. Usually this is done by providing voucher. If voucher/coupon is too small or not provided, pay yourself and claim the receipt.
Calls or emails – you can submit your phone bill or receipt of internet payment, if it is not available at the airport for free
Hotel – if you need to spend a night at the hotel because of the delay, your airline has to either provide you with hotel room or you can claim expenses upon return
Taxi to hotel – if you are spending the night, they have to pay for your cab to the hotel and back to the airport
What are extraordinary circumstances when airlines do not have to pay compensation?
There are only very few extraordinary circumstances when airlines do not have to pay compensation as the reasons are outside of their control:
Terrorism
Technical issue where the plane has been grounded by the authority (not just a broken part – think Boeing 737 Max!)
Collision with a bird (bird strike)
Weather (storms, freezing rain)
Airport staff strike (not pilot or other airline crew staff strike!)
Medical emergency in flight or emergency landing (although I know someone who has received compensation even in case of emergency landing! So it never hurts to ask)
Airlines will often cite one of these even when the events did not happen (yes, the airlines will lie to you!), so continue reading to find out what do you need to write back if you get a response with one of these mentioned as a reason and airline refuses to pay you compensation!
If Airline Refuses to Pay
Don't let the airline trick you, write again!
What if the airline refuses to pay, but you think you are entitled to your money?
Write again! See below the list of most common excuses and what to answer to those
Write to the consumer rights protection agency in the country where the flight departed from. Check the list of consumer protection bodies here.
Often upon the second letter the airline will agree to pay. It seems to be airline policy not to spend money. You can also take the airline to court, and many cases have been very successful. Recently a a friend of mine took the local charter airline company to court and they had to pay as well! So yes, charters are not exempt from paying! However, this is time consuming and better try all of the options described above. If you see that you are no successful, you can try one of the third parties that can get the compensation for you, such as AirHelp.
What to do if airline refuses to pay your compensation and what to answer to that: The list of common responses to ensure your rights are protected and the airline doesn't cheat you out of the money you deserve!
The flight was delayed due to technical reasons which were extraordinary  – this is the most common excuse yet only two recent cases when this really happened was when CS300 and Boeing 737 Max planes were grounded, so it must be done by civil aviation authority, and it does not apply in case of just a broken part. If the airline writes this excuse to you, write back that technical problem in an aircraft which leads to the cancellation of a flight is not covered by the concept of 'extraordinary circumstances' based on European Court of Justice cases Wallentin-Hermann,  Van Der Lans and Sewert vs Condor. I often mention these right away in the first letter, especially if I know technical reason was at fault for the delay.
The flight was delayed due to operational reasons – sometimes airlines claim this as they were short on staff or just in general. This does not count as an extraordinary reason! If they continue citing this, write to the consumer protection agency.
The flight was cancelled or delayed because of lightning strike – refer to Evans v Monarch 2016 that confirmed lightning strikes are not extraordinary circumstances.
The flight was delayed because of a strike – this might be the most complex one, as in case Helga Krüsemann v TUIfly GmbH it was announced that wild-cat strikes are not force majeure reasons and airlines must pay. Recently, AirHelp v SAS ruling confirmed the airline staff strikes are not extraordinary circumstances and you are entitled to compensation! Only if airport staff is on strike and the airline can't do anything about it, this is force majeure. Always check if strike really affected your specific route, especially in case of air controller strike, as if it only affected other flights, you may be entitled to compensation anyway!
Bird strike – bird strike or collision itself is an extraordinary circumstance, but airlines often lie about this. As it is impossible for a regular passenger to find out this information themselves, write to consumer protection agency.
Bad weather – even though you saw all other planes flying without problems and yours was the only one affected. Again, same as above, as even though you can see very detailed weather reports, airlines will refuse to pay, so write to consumer protection agency.
The flight was cancelled due to damages done by a third party (baggage transportation vehicles, ramp stairs etc)-  this is a technical reason, and those are covered by Wallentin-Hermann, Van Der Lans and Sewert vs Condor
The flight was cancelled because of a manufacturing defect – unless this was announced by the official air control or manufacturer and grounded all of the planes (which as I mentioned above, I have heard of once in case of CS300 and now in case of Boeing Max), this is a variation of the same technical reason, so covered by Wallentin-Hermann, Van Der Lans and Sewert vs Condor
The flight was delayed only 2h 58 minutes and you are not entitled to compensation – Germanwings GmbH pret Ronny Henning court case says that delay is until the moment the aircraft door is open and passengers can leave the plane. The time of arrival is the moment when the wheels touch the ground, and it always takes a couple minutes to dock the plane or for the bus to arrive and doors to be opened. You can definitely claim this!
The delay happened outside of EU so we won't pay – in case of connecting flights, such as Berlin-Agadir-Casablanca where the delay happened from Agadir to Casablanca and was done by a non-EU company, it still means you get compensation, if you have one single ticket with connecting flights. Cite case Wegner vs Royal Air Maroc ECJ 2018.
The delay was done by a different airline outside of EU and we don't pay –  similar as above, with the difference that there are several airlines flying each segment of the flight. For example, Prague-Abu Dhabi-Bankok done by Czech Airlines from Prague and Etihad from Abu Dhabi. The flight from Prague was on time, the one from Abu Dhabi was delayed. The latest court case CS and Others v České aerolinie a.s 2019, says that Czech Airlines needs to pay, as they are the operating carrier. So in these cases claim with the first airline who does the flight.
Using Intermediaries to claim refund on your behalf
If you have encountered a particularly tricky airline or case or just don't want to spend time doing this yourself, I can recommend using a third party. Intermediaries usually charge about 30% from the successful claim, so you don't have to pay anything upfront, they will collect their fee from the settlement.  You can first try yourself and then claim with them, if you are unsuccessful.
You can use this online claim checker to see if you are entitled to refund for your flight:
My experience – typical cases where you can get compensation for disrupted flight
At this moment I have submitted numerous claims based on the regulation. Some were my own, in other cases I was helping my relatives or friends.
Case 1 – flight delay with Turkish Airlines
My flight from Riga to Istanbul was delayed due to late arrival of the incoming aircraft, so I missed my connecting flight to Dubai and arrived 5 hours later than planned.
What I did:
when arriving to Istanbul I immediately went to info desk and got a letter from the airline proving that my flight was delayed. at first they offered to put me on a flight 24 hours later, which I did not accept and then they found a place on the next flight 5 hours later and I got a new ticket.
I asked the employee about food, and I was told to visit the coupon desk where I was given a voucher for a meal. If I was in this situation again, I would have just ordered what I wanted to eat, as standard meal was small, wasn't tasty and there was little for me to eat due to dietary requirements. I could only get water and not even tea. Also, as there was no internet or phone given for me for calling, I bough internet access on the spot and tried to cancel the hotel booking for the night, unfortunately without success. Now I have a better insurance and might have claimed it through them.
when returning home I filled in a form on the Turkish Airlines website and added the receipt for the internet. I was entitled to 600 eur. A few days later a got a response that my claim was approved and I can choose between a voucher and cash. Also internet expenses were covered.
If you ever fly in the opposite direction and wouldn't qualify for EC compensation, Turkey has very similar provisions in the country with similar amounts of compensations.
Case 2 – flight delay with airBaltic
airBaltic cancels flight from Vilnius to Riga, offers to fly 6 hours later, which is not suitable for me, as I have to be there sooner for an event.
What I did:
at the check in counter try to find out what is the reason and are there alternatives to the flight 6 hours later. There is absolutely no information provided, clerk blames Riga office and says they can't do anything at all. I ask to give me a phone number I can call, as I don't agree to the option provided. They provide me with a Lithuanian number which doesn't work. I find another number on my own online where an employee called Lolita (refuses to say her surname) says I can organize my own means of transportation which "they will pay for but she can't guarantee that".
I organize my own transport on the ground and buy a few snacks for the long way, keeping the receipt.
returning home I sent an email to customers@airbaltic.lv where I ask to compensate the alternative transport, food receipts and 250 eur based on the regulation. A few days later employee Olga S answers that they will cover the 250 eur compensation but not the food. Transport is not even mentioned in their email. In parallel I consult with a lawyer and expert on the regulation and I am told that they should cover the additional expenses. Alternative is to get this money from insurance, which I do. I also request money for the unused flight, as my delay was more than 3 hours and I could use this right as per regulation (passengers for flights delayed for more than 3 hours are to recieve same compensation and treatment as those whose flights got cancelled per C‑402/07 un C‑432/07)
Case 3 – flight delay with Wizzair
Due to technical reasons Wizzair flight from Riga to Tel Aviv is delayed for over 4 hours and another aircraft is sent. Considering that such case is not extraordinary circumstance, as I have described above, claim can be submitted.
What I did:
as the case is for my relative, we wait for her to come back from her trip before filling in the documents
upon her return (but during 21 days, as recent court case in Latvia requested that to be done within 21 days and not 2 years as elsewhere in EU), I will in the online form. There are no food receipts to claim, as airline gave 4(!!!) eur vouchers to passengers for food, did not inform them of their rights and noone kept any receipts for additional expenses.
after 2 months and 1 week since the claim submission and numerous comments on Facebook, Twitter and Instagram reminding about my claim I finally got an answer saying that they will pay 400 eur compensation.
This point also answers a frequent question that I get, if you can claim funds from low cost airlines such as Ryanair and Wizzair. Yes, you can, low-costers are not exempt. if they are a EU carried or fly from EU, they must pay in case of problems.
Case 4 – flight delay with Lufthansa
This example is a recent one where a friend was travelling on Lufthansa from Bucharest to Tallinn via Munich, and the first flight was delayed, which resulted in missing the connection and going home only on the next day.
What she did:
As the flights were connected, she went to see the staff at the airport, got a new ticket for the next day (there were no flights for the same day), god a voucher for hotel, dinner and breakfast.
Upon return home, upon my recommendation, read this article and filed a complaint on Lufthansa website for 400 eur.
2 weeks later got the money.
The morale of this story is that even if you have never heard about EC 261/2004 regulation before, it should not be an obstacle to submit your first claim! Just read this article thoroughly, ask if you have any questions in the comments, and get your money!
Case 5 – flight delay with Finnair
The flight Riga-Helsinki was delayed, so my friend missed her connection to Telaviv. She was given vouchers for food and provided with a hotel room while she waited for the next flight, 15 hours later, on the next day.
What she did:
Upon returning home, she submitted a claim to Finnair for 400 euros
Few days later they responded that the claim is accepted and will be paid out
A week later she gets the money
Case 6 – flight delay with airBaltic
Flight Vienna-Riga was delayed over 4 hours. It was the same day when the airline had to ground several of its airplanes due to manufacturers orders, but on this route at that time another plane was planned initially (it said so in the tickets).
What my friend did:
Upon returning home, wrote a complaint for 250 euros
For several weeks he did not hear back, so he called the information center of the airline
Finally he got an answer, but negative, stating that the plane he was supposed to fly on, had technical issues.
He sent a response citing Wallentin-Hermann case that technical issues are not extraordinary circumstances and he still wants 250 euros.
Few days later gets a positive response.
In 2 weeks gets the money.
Even if you have never written any kind of complaint in your life, you can do this, as it is very simple!
Other Compensation Cases
Damaged Luggage
It has happened to me a few times that my baggage is almost destroyed when it reached final destination. Broken zippers, torn-off handles, holes in the fabric, broken wheels and other issues. First step in such case is to go to Lost & Found desk at the airport and in most of the cases you will get a letter from them confirming damages and they will tell you where to fix your suitcase. Finnair sent me once to a specific repair shop in my hometown. Turkish Airlines once replaced a completely broken suitcase with a new one, on another occasion they sent my bag to Estonia to fix it (which took time) and gave me a small notebook as a present.
Airline may ask to indicate the age of the bag and this potentially might have an impact on them fixing it or not. Once I wanted to claim repairs from insurer but the cost of repairs would have been less than the self-risk payment.
Delayed or Lost Luggage
Usually airlines don't do much for delayed bags. I have once gotten a check from Continental in the mail for about a 100 dollars and after long debates with British Airways also a few dollars on my account, Etihad gave me about 25 dollars per person when I was in Seychelles. Twice I have been offered T-shirt and tooth brush. Usually these things work only if the luggage is delayed when you go somewhere and not for the way home. Usually I submit a claim with insurance for things I need urgently. Many insurers state in their rules that they can ask you to return the items to them once your bag has arrived, but this hasn't happened to me in practice. My luggage is delayed all the time and I have bought many things because of this – clothing (including underwear, nightgowns, even an evening gown as once as I had an important gala that evening, a winter coat, as mine was in the checked luggage, swimsuit for diving), cosmetics (shampoo, cream, make up and make up remover), shoes, chargers. You must keep receipts! Usually the insurance starts to work about 4 hours after the bag has been delayed. In case of total loss airline will offer a fixed amount to you. Sometimes in charters you can get additional money from the tour operator, I once got 120 eur in cash in Cuba that helped me a lot, as locals don't give receipts and I couldn't submit anything to insurance.
Keep in mind that delayed bags must be delivered til your apartment door and not your house door.
Also, don't check in valuables in your luggage, such as ipads, computers, photo equipment. In case the bag is lost permanently, you are entitled to up to 1600 eur compensation, but you may need to prove the contents of the bag.
If Aircraft is Full and/or You are Denied Boarding
Most of the respectable airlines will look for volunteers to be bumped of to the next flight, but I usually see these cases abroad. When I flew back from Cuba a family of 4 stayed back for a few more days all expenses covered plus 800 cash for every person as flight was full. It is not unheard of to get even $1300 in USA, and of course, a seat on the next available flight. Sometimes this money is offered in vouchers, but sometimes you can get cash. Always ask if you can fly in business or first class because of this. There are people who even do this on purpose, and write instructions on how to get bumped to the next flight. If you are denied boarding involuntarily you get the same compensation as in the case of delayed flight.
Other Issues at the Airport
Once I couldn't check in online due to system error and was asked to pay at the airport for checking in. I had a screenshot of the error message and claimed back my spent money.
Not sure if your flight qualifies for compensation? You can check that here!
In Conclusion
Unfortunately you can't always trust everything that airlines say, must know your rights and use them. Airlines won't just transfer you 250, 400 or 600 eur if you don't ask!
Frequently Asked Questions
1.Can I submit claim for multiple people?
Yes, you can. If you are one family, you can ask for money to be transferred to one persons account. If you are not family members, I suggest providing bank details for the other person. I have submitted claims on behalf of others too.
2.Can I submit a claim for infant or child? Are they entitled to same amounts and care?
Yes! There is no reason why children or small children should not be entitled to compensation. You can claim the same amounts and same care applies.
3.My plane landed 2 hours and 58 minutes after original planned time, can I still claim?
Court case  Germanwings GmbH v. Ronny Henning C-452/13 specifies: "the concept of 'arrival time', which is used to determine the length of the delay to which passengers on a flight have been subject, refers to the time at which at least one of the doors of the aircraft is opened, the assumption being that, at that moment, the passengers are permitted to leave the aircraft. " So yes, you can claim and you should, as it is extremely unlikely you were able to exit the airplane 2 minutes after it's wheels touching the ground.
4.First segment of my flight was delayed, so I missed my connection. Which length of flights should I claim?
The total. So if you flew Frankfurt-Moscow-Seoul, you are entitled to 600 euros.
5.I flew from a city in EU to a city in EU via a non-EU country. Can I still claim?
Yes, if you flew Warsaw-Moscow-Tallinn, and one of the flights was delayed and you arrived late, you can claim, even if the airline is not EU airline. The total ticketed destination matters, and regulation is relevant for all airlines taking passengers from EU, even if they are not European airline.
6.Can each person claim compensation?
Yes, you can claim for every passenger the specified amount of money. So if there is 4 of you flying and you should get 250 euros, it means 250 euros each!
7. How long after my flight can I claim?
Depending in the country of departure, you can claim from 6 months to 10 years after the flight.
8. Are the third parties or intermediaries legit, can they get the money for me?
Yes, absolutely, you can use a third party to get the money for you. Typically, they will take percentage from the win, but this often will be easier than to try to do it yourself. You can use AirHelp for this purpose.
9. Can I get a compensation if my flight was delayed due to coronavirus COVID19?
You are entitled to an alternative flight or money refund in full. Unfortunately, no additional compensation can be received, as this is considered extraordinary circumstances.
Not sure if your flight qualifies for compensation? Check below!
The article was update 18/12/2022.
---